Jefferson County's rent assistance program is currently operational per Proclamation 21-09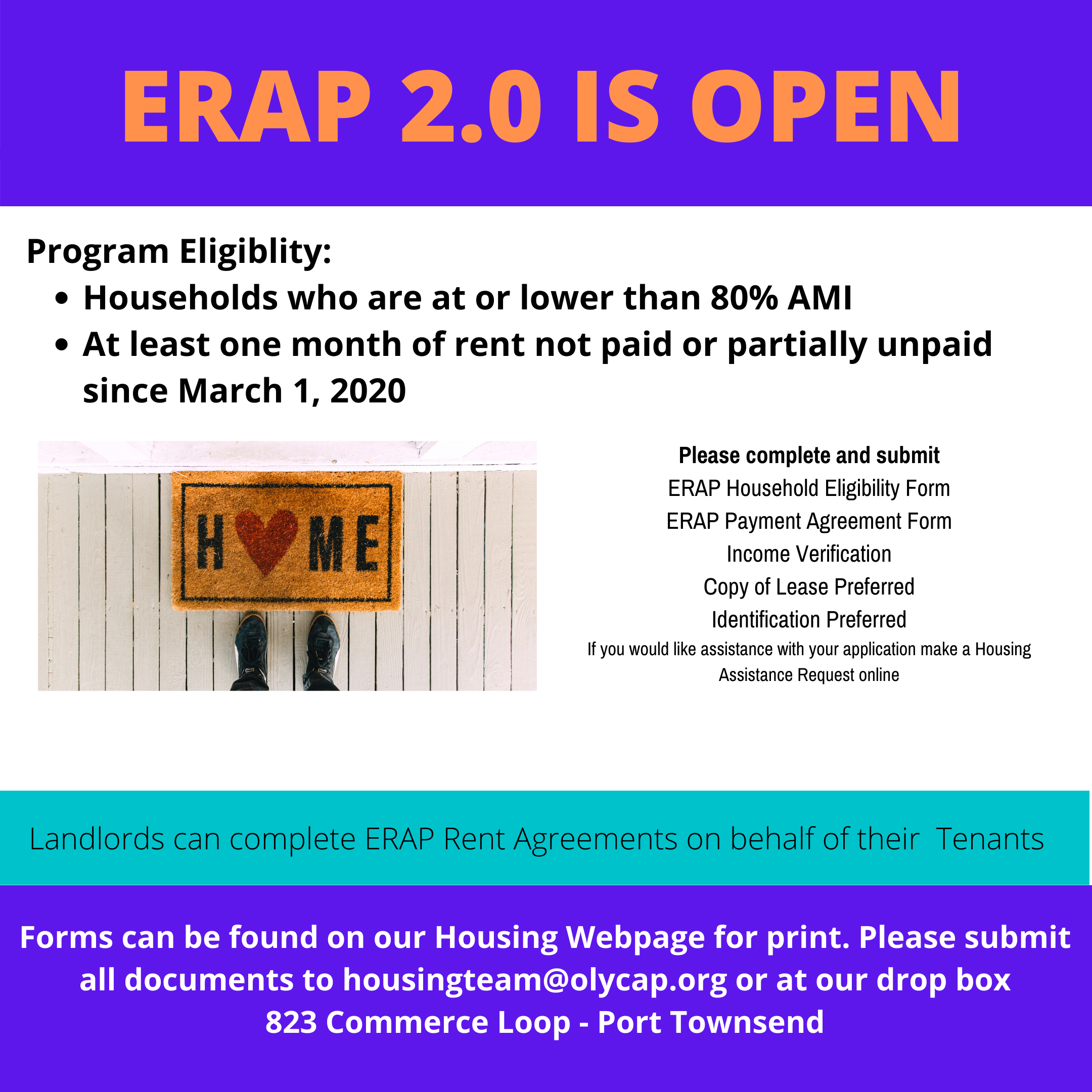 Clallam County Residents for Prevention Rental Assistance:  Please connect with

 

Serenity House of Clallam County

first in regard to the ERAP and other Rent Assistance Programs. We have the Peninsula Home Fund at this time for Rental Assistance (max of $500). To make a request for Peninsula Home Fund Rental Assistance please submit a Housing Request online.
 Shelter and Warming Centers
Jefferson County Winter Shelter
In partnership with COAST (Community Outreach Association Shelter Team), the American Legion Post #26 and OlyCAP: Seasonal winter night shelter for single adults (over age 18) in Jefferson County runs operates daily from 4 p.m. until 8 a.m. Services include three meals daily and referral to community resources. Approximately 23 beds are available each night. US military veterans are prioritized for service.
Haines Street Cottages Shelter
Year-round emergency shelter for homeless families and individuals. Priorty given to families and individuals who are engaged in Jefferson County Therapuetic Courts.
Sequim Warming Center
A community-based project that provides space for Sequim Residents without shelter a place to sit, rest and stay warm during inclement weather.
Rental Assistance Programs
Crossroads Permanent Housing Program
Permanent supportive housing program is designed for families experiencing chronic homelessness. This is a rapid re-housing program with specialized case management and aftercare services to support long-term health of the household. (Jefferson County Only)
Access: Online Inquiry/Housing Line
Youth Solutions
Supportive Services for youth ages 12-24. This program includes outreach, non-cash benefits, case management and peer support. There are also opportunities for youth with a lived-experience of homelessness to get involved in leadership and development of Youth Programs. (Jefferson and Clallam County)
Access: Online Inquiry/Housing Line/Facebook (@YouthSolutions)
New Hope
This is a rapid-rehousing program for young people (18-24 years old) who are experiencing homelessness. It includes relationship-based support and case management. Housing First solutions and Youth Choice approach. (Jefferson County Prioritized)
Access: Online Inquiry/Housing Line/Facebook (@YouthSolutions)
SSVF (Supportive Services for Veteran Families)
In partnership with five other counties. This grant targets veterans and their family with the "housing first" model. The goal with this grant is to help locate housing with the tenant using outside landlords to gain housing and to also help the families retain and keep their housing through short term case management. (Jefferson and Clallam County)
Access: Online Inquiry/Housing Line
HEN (Housing and Essential Needs)
This program is aimed at assisting people who are unable to work for physical or behavioral reasons and who may be in the process of applying for Social Security Disability or Supplemental Security Income. People experiencing homelessness are prioritized for rental assistance. A HEN letter from the state Department of Social and Health Services is required. Services include essential needs such as shampoo, conditioner, toilet paper, laudry soap, etc. DSHS determines elgibility. Some income requirements. (Jefferson County Only)
Access: Housing Line/Online Inquiry – DSHS Referral Letter Required
CHG (Consolidated Homeless Grant)
This is a rapid rehousing program. People experiencing homelessness may access this funding source to help pay for security deposit, first and last month's rent once housing is found. The grant helps those experiencing homelessless, including those living in cars, tents and shelters as well as households fleeing domestic violence.(Jefferson County Only)
Access: Housing Line/Online Inquiry
HF (Home Fund Housing Assistance)
Offers limited funding for households who are At Risk of losing their housing due to Pay or Vacate or Eviction Notice from their landlord. This fund can also assist households with limited move-in costs if they do not qualify under other housing grant guidelines. (Jefferson and Clallam County)
Access: Housing Line/Online Inquiry
HARPS (Housing and Recovery through Peer Services)
For those with behavioral and substance use disorders, this grant provides short-term rental assistance. A HARPS letter from a Behavioral Health Organization or Chemical Dependence Provider is required. Income must not exceed 220% of federal poverty guidelines. (Jefferson County Only)
Access: Housing Line/Online Inquiry – HARPS letter Required
For Clallam County Residents who are interested in programs that are only available in Jefferson County, please be sure to check with Serenity House of Clallam County
Properties
Northwest Passage Permanent Supportive Housing
Up to six, 1-bedroom apartments for single low-income adults or who are otherwise disabled/mentally ill, and 12 permanent supportive housing apartments for low income families with supportive services included. (Jefferson County)
South Seven Senior Village
Permanent, low-income apartments for people over the age of 62; these fifteen units are located in Port Hadlock. Property management and supportive services are provided by OlyCAP. (Jefferson County)